Address: Block C2B, Flat 81C, Janak Puri,

New Delhi - 58, India.

Telephone: 011-65809933

Email i.d.: environs@environs.in

Principal Architect: Sandeep Vij

Mobile: 0-9716082650

Email i.d.: sandeep@environs.in
      Environs is an Architectural And Design Consultancy founded and under the proprietorship of Sandeep Vij, an Architect (B. Arch. 1994) in 1997. We intend to demostrate the power of design to discernible folks. Our scope includes and is not limited to residential, commercial, retail, educational, institutional, hospitality, health care etc. The proprietor, also the Principal Architect, is a Delhiite, a graduate from Government College Of Architecture, Lucknow, Uttar Pradesh, India. We try to be comprehensive and holistic in our work and as such, are never in a hurry (!). We take great pride and relish and enjoy undertaking macro and micro analysis of the projects for which we are commissioned. Brainstorming with and of our clients is expected. ..
      The website www.environs.in was perched in cyber space in 2007. The site on the web address is in a state of development. Relish some random samples here from the Consultancy.
      We appreciate your visit to the site. As a token of appreciation, we present to you constantly updated information on:-
i.  Architectural Design India. Click anywhere on this line.
ii. Architectural Design Global. Click anywhere on this line.
Visiting Card: If you need to download the visiting card, then copy paste the following image, adjust the size as per your convenience, and shoot a print.
<![if !vml]>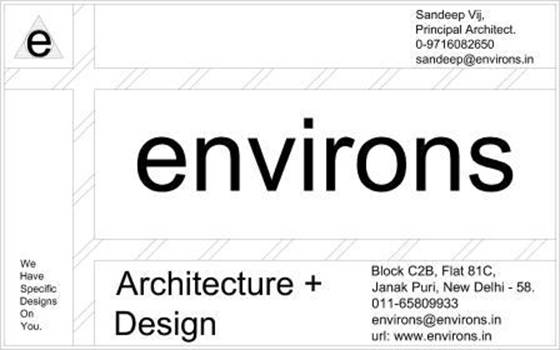 <![endif]>
Trivia: The visiting card design, including the logo, is almost the same as was in 1997 when it was conceived and first designed! What we intend to do, i.e., 'Architecture + Design', was coined or decided in 1994. The tagline "We Have Specific Designs On You." was also coined in 1994 itself.